Dancing has always been a driving passion for Year 9 Howick College student, Erin Stuck.
From the first time her mother, Audra, took a three-year-old Erin to a music and movement playgroup, her natural talent and ability has been plain for anyone to see.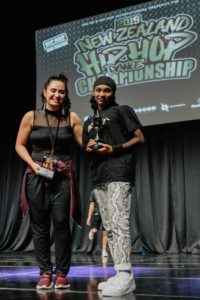 No stranger to competition success, Erin was thrilled to be named the Most Outstanding Female Dancer at the recent Hip Hop International New Zealand Dance Championship Auckland Regional Qualifiers at the Vodafone Events Centre in Manukau.
Erin and hip hop team Beast placed second out of more than 30 crews competing in the junior division and will now prepare to represent New Zealand at the Hip Hop International World Dance Championships in Phoenix, Arizona, in August where they will compete against thousands of dancers from more than 50 countries.
Originally from South Africa, Erin and her family moved to New Zealand when she was 2-years-old. She enjoys all forms of dance from tap to ballet, but finds hip hop the most exciting and challenging.
Her ambition is to travel the world and dance alongside leading hip hop artists before eventually becoming a choreographer in her own right.
Erin is inspired by Parris Goebel, the internationally-renowned choreographer, dancer and singer from east Auckland whose crew, the Royal Family, won the World Hip Hop Dance Championships three times.
Full Story: https://www.times.co.nz/news/beast-second-in-hip-hop-international-nz-champs-qualifier/